General Information 2021
Here you will find the most important information about the virtual International Gymnastics Congress in Freiburg from 16 to 17 October 2021.
VIRTUAL - both live and asynchronous (only German)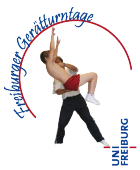 This learning event is carried out in cooperation between the Institute for Sport and Sports Science at the University of Freiburg, the German Gymnastics Federation and the Baden Gymnastics Federation and is recognised as a nationally open advanced training course for the extension of licences at all licence levels.
Registration
You can register in a variety of ways.
Digital: This is what we like best, because the data can usually be transferred without errors. For this you need this form.
Traditional: Send us a printout of the form by fax or mail.
By telephone: +49 761 203-4525
Due to our other activities at the institute, we are not always available by telephone, but we call you back whenever we can detect missed calls in our telephone (but the transmission of the telephone number must not be switched off).
Scope: 8 or 16 hours workload                                                                                  
This year, the Congress will be virtual in an either synchronous as well as asynchronous way. Every part covers 8 hours. With the synchronous topics, the participants have the opportunity to interact with the speakers and to ask questions. Furthermore, there are asynchronous lectures which consist of 3 different packages covering 8 hours in total. The packages include 3 workshops or presentations AND afterwards the reflection of the gained knowledge with a delivered exercise commented by another participant. 
Date: The packages will be activated from 16/10/21 and stay available until the end of the year. (The given times for the asynchronous topics in the program are just a technical precondition for the internet page and are therefore not relevant. The participants can watch the lectures at any time.)
The live lectures in English take place on Saturday 16/10/21 from 9 am. The live lectures in German take place on Sunday 17/10/21 at the same time.
Registration fee:
€100 for 16 hours
€60 for 8 hours
10% early bird registration discount
10% group discount (from 5 persons)
Programme
We are currently working on Programme 2021.
The speakers are proven experts in gymnastics. Experts of the FIG belong to the circle of lecturers as well as the successful trainers of the last years.
Here is the list of our speakers...
If you would like further information on the registration procedure, free places, organisation, etc..., please write us. Or follow us on Facebook, Twitter and Instagram